Do you want a job that is rewarding, varied, challenging, and fun? Why not join the dynamic and ever-changing multibillion UK recruitment industry? We're biased, but we believe there's no better industry out there!
The buzz of helping your candidates never gets old, whether it's finding them the perfect temporary assignment or their dream permanent role. All whilst meeting new people every single day and getting to know a wide range of businesses and building long-lasting relationships. It's safe to say no two days are the same!
The driving force behind the business is undoubtedly the commitment and passion of our staff.
We work in partnership with a full cross-section of the business world; supplying high-profile, blue-chip organisations to smaller, locally run firms. We value all our clients equally and pride ourselves on building long-term relationships.
We can offer exciting opportunities at all levels, whether you are an experienced Recruiter or Manager, or looking for your first step on the career ladder.
Our people are at the heart of what we do, and working for us gives you a real opportunity to make a difference.
In return, you'll receive a competitive basic salary and an excellent commission structure. We offer plenty of other employee benefits too, including private healthcare and Perkbox (which gives you access to hundreds of discounts, freebies, and money off at High Street shops).
You'll also get to enjoy your birthday off every year, and a holiday allowance which increases with your length of service. We're expanding rapidly, with no plans to slow down, so if you're looking for career advancement, you'll be in the right place. If all of this hasn't got you excited yet, we also enjoy plenty of team events and 'treats' throughout the year, such as spa days and theme park trips!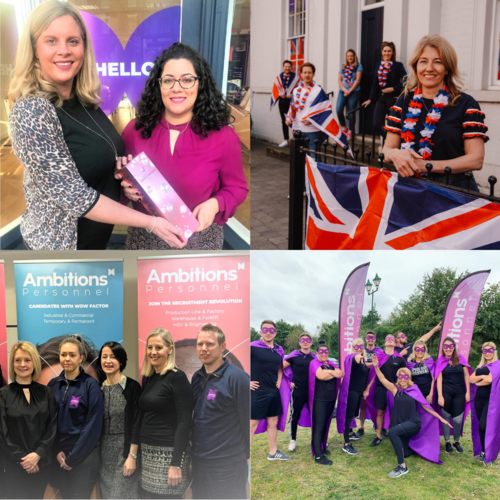 ​​
If you're interested in joining our team of recruitment professionals, please email your CV to lizzie.tasker@ambitionspersonnel.com or complete the form below:
Branch Manager

Recruitment Consultant

Account Manager

Recruitment Resourcer

Apprenticeships
​
​